Wedding, Couple, and Family photographer
New York City & Worldwide
Couple and family Photoshoot in NYC area
New York couple and engagement photographer
Engagement Photography in New york city
Likewise, we offer great options for engagement photoshoots in New York city and proposal photography.
Wedding Photographer in New York
Natural wedding photography in NY is also my speciality. Don't hesitate to tell me your ideas about affordable wedding photography in New York.
Professional new york photographer
The best photos of you surprise proposal in New York with Leyre, a professional photographer
Fotografo profesional en Nueva York
Family and engagement photography in New York. Choose your favorite place like Central Park or Dumbo and get natural photos.
Sesiones de fotos de pareja y familia en Nueva York
Family photoshoots are a great opportunity to have fun all together. Book now with Leyre Canizares, your family photographer in NYC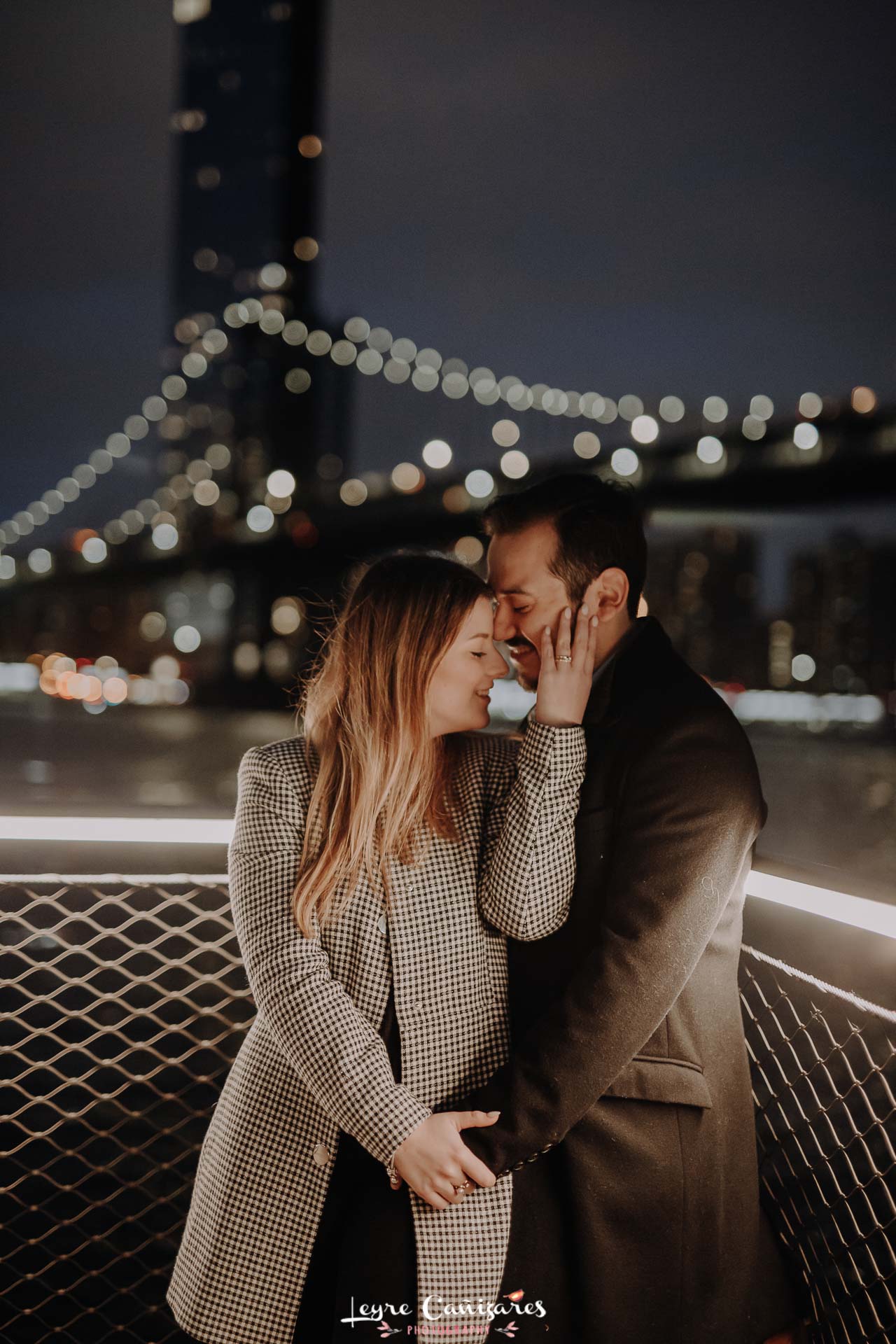 My work is about capturing the connection between people.
Although life without memory would not be life at all, we forget easily. Photographs are, perhaps, the most powerful method to bring back what is past. And not just a face without wrinkles or the sunshine of a special day, but the love that makes our existence meaningful and the little details in which it is expressed: the intense look of a couple in love, the touch of two hands with proudly worn wedding rings, the excitement of those who are expecting, the curious eyes of a newborn at the sight of their parents, or the joyful moments of a family all together.
NYC Wedding and engagement photography with Leyre Cañizares
If you are looking for a couple photographer in NYC, Leyre Canizares is your best option.
Surprise proposal photographer in New York city area
Likewise, we offer great options for engagement photoshoots in New York and proposal photography. Choose your favorite package and book your date for your photoshoot
Maternity and pregnancy photography in Manhattan and Brooklyn, NYC
Vacation photographer in New York. Reserve a date with Leyre, a professional photographer based in NY
Elopement and wedding photography in New York City, book your date with Leyre Cañizares
Get natural and lovely photos in New York with Leyre, a professional photographer specialize in couple and family photoshoots
The best photographer in New York. Couple and family photographer. Engagement and proposal photoshoots
The Best Affordable Photographer in New York, NY 2019-2010
What type of photoshoot are you looking for?
I work in the New York City area, but I can travel anywhere to do photoshoots and weddings!
I'm from Madrid, Spain, but I'm living in Manhattan with my partner. In the last years, I was so lucky to be able to work in many different cities like
London, París, Miami, Boston, Madrid, Barcelona and Oxford.

I cannot say enough wonderful things about Leyre! She has an amazing eye for photography and the ideas for photographs were much more than we ever imagined! She is sweet and has a fantastic eye attention to detail. I recommend Leyre without any doubt. We are beyond elated with our experience and her professionalism. She gets 10 stars from us! We hope to meet again Leyre!
Michelle & George
Right from the first email (we live in Australia) Leyre was so helpful and accommodating. She took the time to get to know our story and really understand our vision. She offered so many suggestions on great locations and sent us examples of her work. She also helped me find the perfect flowers for my bouquet by emailing me a few great florists close to our hotel. When the weather turned bad she was flexible and changed the date so we would get the perfect shots. Leyre is not only a super talented photographer, she is such a sweet and kind lady and we instantly felt comfortable around her. We absolutely LOVE our photos and can't wait to book another shoot with Leyre in the future.
Kim & Garry
Leyre did an incredible job with our engagement photos. She was super thoughtful with my partner when planning the surprise, and even visited the site beforehand to scope it out. She gave us expert advice, but also allowed us to choose where to shoot and how many photos to take. Not only is she a gifted photographer, but she was sweet and fun the entire time, making us feel right at home to celebrate. I would recommend Leyre to anyone looking for beautiful photos and a lovely experience!
Anna & Daniel
Leyre is magic! It was snowing so much, my hair and feet were soaking wet, and I was freezing cold but she made the experience so much fun! The photos turned out amazing and it was a wonderful experience. I hope I get the opportunity to shoot with her again!
Nicholas & Amy